Albanian rescuers thank Cornish club for Land Rover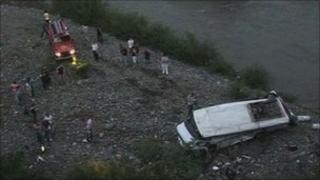 Albanian emergency crews have thanked a Cornish Rotary Club and Cornwall's fire service for a Land Rover donated to the country which helped in a rescue.
The former fire service vehicle allowed medical teams to reach survivors of a bus crash and evacuate them after it fell off a cliff, killing 14 people.
The accident happened in the Puka district, about 140km (87 miles) north of the capital Tirana on Saturday.
Bodmin Rotary Club said the Albanian rescuers were "very grateful".
The Land Rover, which is sponsored by Bodmin's Rotary Club, was able to make its way into a ravine to take medical support to 20 survivors, conveying 12 of the most seriously injured to a helicopter deployed to the scene.
Barry Kressinger, coordinator of the club's team involved in the project, said: "They are very grateful for what we have done because without that Land Rover there may well have been greater loss of life."