Cornwall Council owed £9.5m in taxes and rates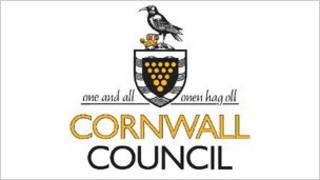 Cornwall Council failed to collect more than £9.5m in taxes that was owed to it in the last financial year.
The authority has revealed £6m in council tax and £3.5m in business rates went unpaid in the year to March.
The amount equated to 2.5% of the total that should have been collected. That was better than the English council average for unpaid taxes, which was 3%.
However the GMB union said it was not acceptable. The council said it would continue to chase those who owed money.
Although the figures were the first for the unitary authority, which began work in April 2009, the level of 2.5% was the same as the non-collection rate in 2008/9 under the county's six former district councils.
The council was budgeting to raise a total £234m through council tax in the 2009/10 financial year.
However, Richard Ascough of the GMB, said: "This level of uncollected local taxes can not be accepted at a time when there are deficits in the public finances which are giving rise to cuts in public services and job losses at a time of high unemployment."
The council said it had collected the vast majority of money it was owed and was continuing to chase those who owed revenue.
It added that any money not collected was not written off, but continued to be collected beyond the end of the finanical year.
The council is having to make £14m of cuts in this financial year.