Hospital boss Watkinson awarded £70,000 compensation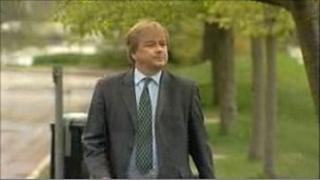 A hospitals chief who was unfairly dismissed has been awarded nearly £70,000 compensation.
John Watkinson was sacked in 2009 as chief executive of the Royal Cornwall Hospitals Trust (RCHT).
An industrial tribunal found he was removed because he stood in the way of plans to transfer some cancer services out of Cornwall to Devon.
He has been awarded an interim payout of £67,250. A final sum has not yet been set.
The tribunal in Exeter ruled in May his sacking was "substantively unfair" because he was about to blow the whistle on legal advice suggesting the NHS should have held a public consultation before moving the cancer services to Plymouth.
The tribunal has yet to decide a final sum to reflect the fact he was a whistleblower.
Although the RCHT admitted it unfairly dismissed Mr Watkinson, it is appealing against the ruling that he was a whistleblower.
An independent report on whether the transfer of services from Cornwall to Plymouth should have gone ahead is expected to be released by the Health Secretary later this week.