Plans approved for £1m Mylor harbour yacht club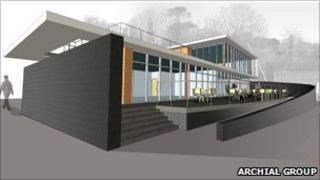 Plans to develop a new a £1m pound yacht club in Cornwall have been approved by Cornwall Council.
The project at Mylor creek will include a marina with 400 moorings and berths for members.
When completed, the club will be used as an Olympic training camp for Great Britain and other visiting teams for the London 2012 games.
Architects have been working with English Heritage on the design and work will begin in September.
Mylor was originally the most westerly naval dockyard and victualling station in England and was home to the Royal Navy training ship HMS Ganges in the 19th Century.
The harbour at Mylor was also used as a centre for the French resistance during World War II.
Ian Hodder, from Archial Architects, said the 21st Century building will complement the existing architecture.
"Given the location of the club alongside a Grade I listed 12th Century church and a couple of Grade II listed Admiralty buildings, our design brief was to create a building of a scale that complemented rather than threatened those buildings of historical interest in the immediate vicinity."
Work should be finished by spring next year.