Cornwall leaflets give anti-gull advice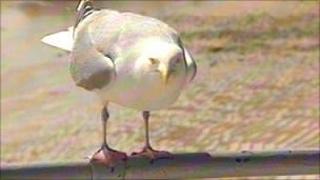 A campaign is being launched in south east Cornwall to cut the mess made by seagulls ripping rubbish bags open.
Cornwall Council, Lansallos Parish Council and Looe Town Council are distributing leaflets advising how to protect bins and waste bags from beaks.
A limited number of gull-proof outer sacks were also to be handed out in some areas, organisers said.
They added that they particularly wanted to get the message across to visitors in holiday lets.
The councils said they wanted visitors to realise how voracious the birds could be when scavenging for food.