Heartlands project in Cornwall is officially launched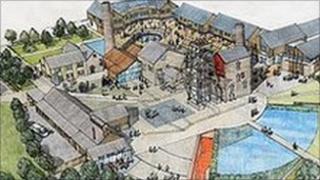 The official launch of a multi-million pound initiative to redevelop an area of industrial wasteland in west Cornwall is due to take place later.
The 20-acre (8ha) site at Pool, near the South Crofty tin mine, is to feature parks, gardens, artists' studios and cafes as well as housing.
Some building work on the scheme, which is mainly being financed by the Big Lottery Fund, has already begun.
The development is due to be completed by autumn 2011.
Schools have been involved in helping to design the play spaces at the site which will be completely powered by wind turbines.
There are also plans to build a concert venue.