Cornwall planner's fears over affordable homes plan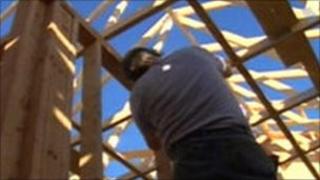 Plans to allow small communities to build more affordable homes could backfire, a Cornwall planning councillor has warned.
The government is proposing local referendums to approve developments of fewer than 20 homes, negating the need for formal planning permission.
These would be in areas where there is a shortage of affordable homes.
But Cornwall councillor Mark Kaczmarek fears if holiday home owners vote against, fewer homes may be built.
Mr Kaczmarek, who is responsible for planning, fears the government's scheme could backfire in a county which has a large number of second-home owners.
"They're saying if there's 10% opposition then this type of thing can't go ahead," he told BBC News.
"We know full well as a planning authority that quite often it's the people in need of housing that are shouted down by those who actually own housing.
"It's very difficult in many cases to get affordable housing schemes in and around villages because of the local opposition."
The Right to Build is part of the government's "Big Society" plan to allow more decisions to be made locally, while at the same time dealing with the chronic housing shortage.
It was unveiled by Housing Minister Grant Shapps, who said he wanted to give communities the power to preserve their villages, which are currently struggling to survive because of a shortage of homes which local people can afford to buy.
"With house building at its lowest level in any peacetime year since 1924, some areas are facing a battle to keep schools and GP surgeries open as younger people are forced to move away," he said.
"I want anyone with the vision and drive to build homes in their area to be able to do so."
Responding to Mr Kaczmarek's concerns, a Communities and Local Government spokesperson told BBC News only people who were registered to vote locally could take part in a referendum.
"In most cases, they would be on the electoral register for their first homes," she added.