RNAS Culdrose 857 Squadron deploying to Afghanistan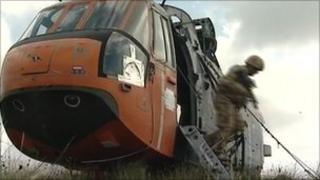 Royal navy personnel from RNAS Culdrose in Cornwall have been completing last-minute training, ahead of their next deployment to Afghanistan.
Forty members of 857 Squadron will leave for Camp Bastion in Helmand Province later.
They will relieve 854 Squadron who have been in Afghanistan since February and will return to Culdrose in August.
The squadron's airborne surveillance and control role includes alerting troops on the ground to danger.
"We offer a unique capability," Cdr Pat Douglas told BBC News.
"If people on the ground require us to go and look at a certain area, we can go and do that in really quite short order."
'Testing' conditions
He said the squadron had been involved in months of training to be ready to fight in theatre in Afghanistan.
Final preparations have included "down bird" drill in case a Sea King is brought down.
"If the worst comes to the worst, the aircrew need to be able to get away and protect themselves until they can be collected safely and taken back to base," Cdr Douglas said.
He said 857 Squadron - both aircraft and crew - would be in for a "testing" conditions with temperatures of 44 Celsius and above.