Eden Project stops offering family tickets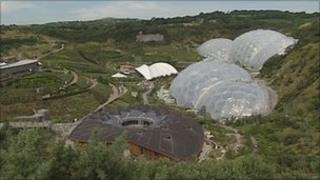 Cornwall's Eden Project has abandoned offering family tickets as part of a round of entry charge increases.
It means a family of two adults and three children which would have previously been charged £39 on the door has to pay £53 to enter the attraction.
The project said that it was using newspaper promotions and supermarket reward schemes instead to lower the price for families.
The new total of £53 comes from adults being charged £17.50 and children £6.
Adults were previously charged £16. Children's ticket prices have remained unchanged.
However, marketing manager Martin Williams said the use of vouchers would mean that families would not have a much higher price than the previous family ticket.
He said: "If a family came in with two free children's vouchers, then the price would be £41, which is only £2 more than the previous family ticket price."
If visitors choose to Gift Aid their tickets - which allows the Eden charity to reclaim VAT on sales - they can then have free entry for a year.
In the year up the end of March 2009, the attraction had 1.06 million visitors, of which nearly 190,000 were children, the project's 2008/9 annual review said.