Bodmin flat closed after anti-social behaviour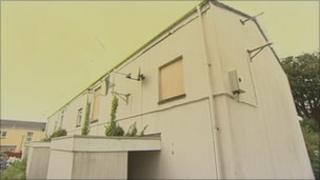 A flat in Cornwall has been closed for three months after complaints from neighbours about anti-social behaviour by visitors to the property.
The flat, in Old Market Place, Bodmin, which was occupied by a "vulnerable adult", has been boarded up after police secured a closure order.
A police community support officer (PCSO) and housing official collected evidence for two years.
The flat's occupant has been moved into sheltered accommodation, police said.
Violence fears
Neighbours said visitors to the top-floor flat held parties which included drug abuse, and that the visitors intimidated and threatened them.
Vehicles were vandalised and dog mess was thrown at windows.
One neighbour slept in his car to get away from the intimidation and others erected high fences because of fears of violence.
PCSO Debbie Knowlden and Cornwall Council housing officer Helen Collings collected the evidence and worked with residents to assure them action was being taken, police said.
Neighbourhood Beat Manager Pc Adam Barbery said: "Together they have obtained a wealth of evidence from supportive residents and presented this in a prompt and professional manner."
The order was granted by magistrates under the Anti Social Behaviour Act 2003 and the Criminal Justice and Immigration Act 2008.
The legislation had previously been used to close premises involved in supply of drugs, commonly known as a "crack-house closure", but recently the law was extended to include anti-social incidents, police said.
When the order expires another tenant will be found, housing officials said.