Steam train inaugurates new Cornwall branch line track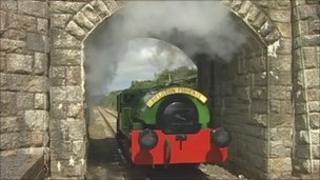 A steam train has run along a new track on a Cornish branch line 45 years after cuts closed it.
The line between Helston and Gwinear Road was taken out in 1965 as part of nationwide cuts recommended by Dr Richard Beeching.
The Helston Railway Preservation Group has created a new half-mile (800m) of line and station platform at Trevarno.
The group said it hoped to eventually create a mile (1.6km) of line between two platforms.
The half-mile of line has taken five years and £60,000 to build, and the inaugural journey was made by an engine borrowed from the the county's Bodmin and Wenford Steam Railway.
Stuart Walker, of the Helston Railway Preservation Company, said the rebuilding of the line was an "absolutely fantastic achievement".
He said: "We first started thinking about reopening part of the line in 2000.
"In those days, it was just a small group of us meeting in a pub. Now I have to pinch myself because we have a railway station."
The group hopes to build the next half of the line to connect Trevarno with a platform at Truthall.
Dr Richard Beeching's rail report in the early 1960s, when he was boss of British Railways, recommended a reduction of the rail network by a quarter, some 5,000 miles (8,000km).
It also recommended the closure of 2,128 stations, resulting in the loss of about 67,700 jobs.