Cornwall Council forecasts 2,000 jobs could be lost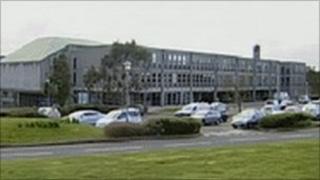 Up to 2,000 council jobs could be lost at Cornwall Council in an attempt to make savings of £110m.
Details of how the savings would be made over the next four years, due to cuts in government funding, were discussed at a council briefing.
Council leader Alec Robertson said estimates suggested that around 2,000 jobs will go over the next few years.
The council, which employs 13,550 full-time staff, said it would announce an emergency budget in November.
'Severe impact'
Mr Robertson said: "Pay and wages make up around half of the council's budget so there will inevitably be job losses.
"We appreciate that this will be a very difficult time for our staff, but the truth is that there is no easy solution.
"We know that we have some very difficult decisions to make but delaying these decisions now will have a much more severe impact on jobs and services in the future."
At the briefing, areas of savings were identified included reducing the number of buildings used by the council and integrating contracts in areas such as waste where there are currently six separate companies collecting refuse.
Expense freeze
Mr Robertson "We need to review the level of the services we provide to people in Cornwall and to look carefully at how these services are being delivered."
Stuart Roden from the union Unison said: "We're extremely shocked.
"We knew there were massive problems, but I don't think we anticipated this number of jobs when we were having discussions a few weeks ago.
"We've got to sit down and talk to the council we've received some positive messages from the chief of the council who says he wants to work with us."
The council said it hoped to make most of the cuts over the next twelve months, and save £17m by April.
At the briefing councillors also voted against a 2.3% increase in their daily allowances and opted to freeze their expenses.