Cornwall's Wave Hub to go on despite unclear ownership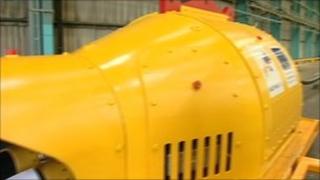 Managers of Cornwall's Wave Hub energy project say it will be completed even though there is uncertainty about who will own it in the future.
Government proposals to scrap Regional Development Agencies (RDA) mean it is uncertain who will own the £42m project once the South West RDA has gone.
Project general manager Guy Lavender said the situation would be "played out" and that work was continuing.
The installation of the 12-tonne sea-bed hub is due to begin next week.
The hub is to take power created by wave energy machines on the sea surface.
After the power is transferred to the hub, it will be directly fed to an electricity sub-station in Hayle.
Project general manager Guy Lavender said he was not worried about the lack of clarity over who would own it.
He said: "We will finish the construction programme and we are getting on with opening and delivering this site.
"There is an issue, of course, about the long-term ownership, but that's to be played out. Whether it is a national programme or part of a local economic partnership, that is uncertain; and that's the world in which we live.
"My job is to get this right and get developers through the door to use this facility."
Wave Hub should start delivering power to the national grid as early as next year.
An independent economic impact assessment has estimated the £42m project could create about 1,800 jobs and inject £560m into the UK economy over the next 25 years.
Wave Hub will undergo a series of tests in the autumn.