Newquay safety group 'very impressive', minister says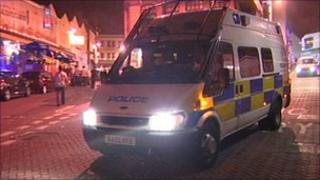 The Home Office is learning from a partnership in Cornwall on how communities can deal with anti-social behaviour, a minister says.
Crime Prevention Minister James Brokenshire said the work of the year-old Newquay Safe Partnership was "very impressive".
He was in the town on Thursday night speaking to the partnership emergency services and members of the public.
He said the work was also contributing to a review of the Licensing Act.
'Important steps'
The Newquay Safe Partnership - which involves police, councils, businesses and residents - works to promote safety in the town and to find ways of minimising the risks to drunk people in the town centre.
Pubs, clubs and off-licences also work with the partnership to tackle the causes of alcohol-related disorder.
Mr Brokenshire said the work showed a "very strong partnership".
He said: "I think it has made important steps forward for actually changing the culture here in Newquay.
"There is more work to be done, but there are some good positive things around the partnership and, equally, about how to manage the night-time economy.
"Certainly at the Home Office we're learning and listening, as we want to apply that as we move forward with our consultation around the Licensing Act.
"We want to see how we can better ensure that licensing powers give communities a stronger say to be able to deal with issues in their area that reflects and respects local needs."