ShelterBox charity's Falmouth tent 'sleepover'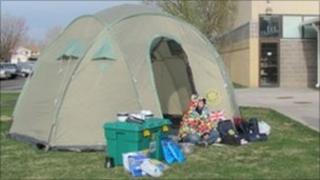 A Cornish-based charity arranged an unusual "sleepover" on Saturday night to help raise money.
ShelterBox, the international disaster relief charity, held the event near the quayside in Falmouth, as part of its Big Weekend.
Ten ShelterBox tents were erected on Events Square for people to experience what it was like to share a tent with nine others.
The charity targeted corporate groups as well as individual campers.
As well as the 10-person tent, each £490 ShelterBox contains blankets, water purification, cooking equipment, tools and a stove.
Laura Jepson, who will be travelling to Brazil next week with a ShelterBox rapid response team, said it gave them an insight of what it is like, but with the trauma of an earthquake, flood or tornado.
"We thought it would be a really good opportunity to raise money and to raise awareness about what we do," she told BBC News.
"We've got such an amazing network of support here in Cornwall, so we wanted to let our supporters see the tent and actually experience being inside it."
Ms Jepson will be part of a ShelterBox rapid response team leaving for Brazil next week, where flash floods in June have left tens of thousands of families homeless.