Redruth voters elect Cornwall's first black councillor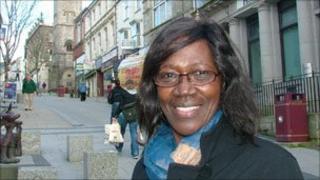 Voters in a Cornish town have elected what is believed to be the county's first black woman councillor.
Mary McWilliams was elected to Redruth Town Council last week following the resignation of independent councillor John Hayward.
Her five children have been brought up in the town and Mrs McWilliams worked as classroom assistant at Curnow School.
"I am honoured and thrilled to be the first black woman elected," she said.
"I hope I can repay the trust local voters have given me by listening to their concerns and working hard for them."
'Local knowledge'
Cornwall Association of Local Councils (CALC) said with 213 town and parish councils in the county dating back to 1894, it would be very difficult to confirm categorically that Mrs McWilliams was the first elected black woman official.
"The ethnicity of candidates is not on ballot papers, so it would rely on local knowledge," CALC spokeswoman Sarah Mason told BBC News.
"The smallest parish of St Michael's Mount has 15 electors and the largest - St Austell - has 15,500, so I couldn't with my hand on my heart prove or disprove it.
"But to my knowledge in recent years there have been no black women councillors."
Mrs McWilliams said her main aim as a councillor would be to listen to the people of Redruth.
As a keen member of the local allotment group she will also support any initiatives that promote healthy living in the town, she added.