ShelterBoxes are sent to Pakistan flooding victims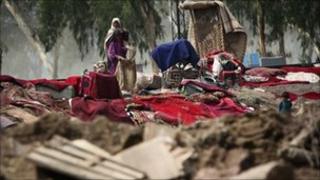 More than 1,000 aid boxes from a Cornish charity have been sent to Pakistan after the country suffered its worst floods in 80 years.
About 400 ShelterBoxes have already arrived in the country and another 600 were on the way, the Helston-based disaster relief organisation said.
The boxes which have arrived have been distributed in the Punjab and Khyber-Pukhtunkhwa regions.
At least 1,100 people have died and another 2.5 million affected.
In the worst-affected areas, entire villages were washed away without warning by walls of flood water, the International Red Cross said.
Each £490 ShelterBox contains a 10-person tent, blankets, water purification tablets, cooking equipment, tools and a stove.