Bereaved forces children given holiday in Cornwall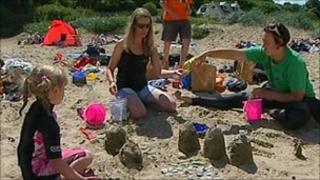 Bereaved children from military families are having a holiday in Cornwall as part of a Ministry of Defence (MoD) initiative.
The Families Activity Breaks (Fab) scheme aims to provide a safe atmosphere for dealing with grief.
The holiday has included beach visits and adventure activities designed to help boost children's confidence.
It has also given them the chance to socialise with others who have had similar experiences.
'Such a success'
The Fab scheme, conceived in early 2008 and trialled as a pilot in 2009, is run in partnership by the MoD and the Youth Hostel Association of England and Wales.
It is offered to youngsters up to the age of 19 affected by the loss of anyone in the three armed services, be it parent, carer or sibling.
Children from 24 families were given a holiday last year, including trips to Cornwall.
Organisers said they were glad to return to the county but were working to offer more locations around the country to more families.
Capt Karen Tait, of Fab, said: "We decided it was such a success, so this year we've targeted 100 families."
As well as Cornwall, holidays are being planned for youngsters in Whitby, North Yorkshire, Conwy, in Wales, and Cairngorm, in Scotland.
Volunteers leading the activities are trained in bereavement counselling.
One teenager, Connor, said meeting those with him on the Cornwall trip who had been through similar experiences had been very important.
He said: "Your friends don't exactly know what you're going through but they try and comfort you.
"But people here know what you're going through, and so there's a shoulder to cry on and it's nice that you can bounce off them."