Fault grounds aircraft at Cornwall Royal Navy base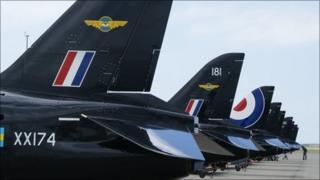 Training aircraft at a Royal Naval air base in Cornwall have been grounded after engineers detected an ejector seat fault in a similar plane in Wales.
The Ministry of Defence confirmed about 14 Hawk T1 aircraft at the Cornish base RNAS Culdrose, near Helston, were grounded.
Hawk aircraft at RAF Valley on Anglesey in Wales were grounded last week after an inspection revealed the problem.
No aircraft will be permitted to fly until it has been inspected.
The grounding request affects all training Hawk aircraft in the UK that are fitted with a Mark 10 ejection seat.
A source at RAF Valley told BBC Wales the fault was spotted by engineers last Tuesday.
The grounding also affects another navy airbase in the south west of England, RNAS Yeovilton in Somerset.
It is not known how long it will take to inspect all the aircraft.
The MoD said safety of its air crews was of paramount importance.