Talks planned over Cornwall to Scillies helicopter link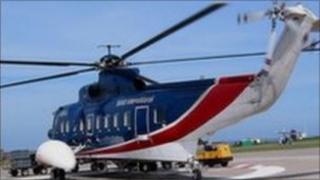 Talks are expected to be held in August about whether flights from Cornwall to the Isles of Scilly could run from Land's End airport instead of Penzance.
British International Helicopters (BIH) has agreed to sell Penzance Heliport to Sainsbury's subject to the firm gaining planning consent to build a new store.
BIH says airport owner, Isles of Scilly Steamship Company, has told them that it plans to discuss options next week.
The airport's owners said it was considering various implications.
Noise concern
If the firm decides to agree to flights from Land's End and Sainsbury's gets planning permission, some locals fear that the noise from up to 12 helicopter flights a day at the height of the season could harm tourism.
Land's End Aerodrome Action Group (LEAAG) claims noise from the helicopters would pollute West Penwith and is calling for an environmental impact assessment to be made.
It says that air traffic at Land's End Aerodrome would double and it is also concerned about a rise in road traffic if the flights are based from the airfield.
Tony Jones, managing director of BIH, said: "I think there will be more concerns over tourism if we can't operate a service from Cornwall to the Isles of Scilly.
"An operation from Land's End would have a very small effect on locals in terms of noise - we can organise landings and take off approaches to avoid known tourist spots and housing.
"I have spoken to the chief executive of the Isles of Scilly Steamship Company who said he has to put the proposals to the board which I think is taking place next week so we will have a better, clearer picture as to whether Land's End is on the options list next week."
Jeff Marston, chief executive of the Isles of Scilly Steamship Company, said: "We continue to have regular discussions with British International about the options open to them, including a move to Land's End Airport, following the announcement of the sale of Penzance Heliport.
"The board of the Isles of Scilly Steamship Company is considering the various commercial implications of how it wishes to move forward, as a result of this on-going dialogue with British International."