'Spinal injury' in 'tombstone' dive at Porthcothan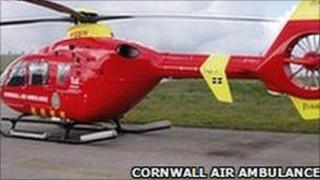 A man has been airlifted to hospital after diving headfirst into waist deep water at Porthcothan Bay in Cornwall.
The RNLI was alerted to the incident on Monday after a member of the public saw the man, 30, dive 30ft (9.14m) from Arch Rock into shallow water.
After leaving the water the man complained of neck pain before collapsing on the beach.
Cornwall Air Ambulance treated the man for spinal injuries, before flying him to the Royal Cornwall Hospital.
Bobby Renaud from the RNLI said: "The RNLI would strongly discourage anyone jumping from heights into water.
"What I find so unbelievable is that not long after the air ambulance had taken off, there were people heading back up Arch Rock to jump themselves."