Cornish fire crews train ex-offenders to get jobs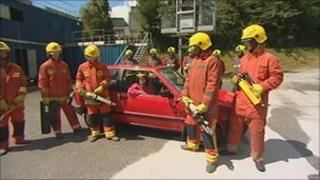 Firefighters in Cornwall are taking part in a project to help ex-offenders gain new skills and qualifications.
The Fire Works project, which also involves probation and adult education staff, aims to help people break any cycles of offending and get employment.
The project involved a mixture of practical training with fire crews and classroom work.
People who have served sentences for crimes such as assault, burglary or car crime have been taking part.
'Admirable qualities'
The course, which can last for up to 16 weeks, involves activities at community fire stations, where attendees receive practical training in fire safety, road safety and child protection.
They also spend afternoons in station classrooms working on personal and literacy skills.
People who successfully finish the course gain a literacy qualification and an employability award through the Award Scheme Development and Accreditation Network (ASDAN).
Twenty people are involved in the programme and some said they believed it had already given them the chance for a fresh start.
Stuart, who was convicted of common assault and is on probation, said: "It's a team-work builder, it's a trust builder and a friendship builder.
"Those are admirable qualities that I'm happy to get from this, and now I feel I'm in a position to do anything I pretty much put my mind at."
Tim Fildes, from the Devon and Cornwall Probation Trust, said: "Employment is identified as one of the key issues to reducing re-offending.
"This gives people self-worth and confidence within themselves and also it allows them not to be a burden on society."