Work starts to float Cornwall Wave Hub cable to shore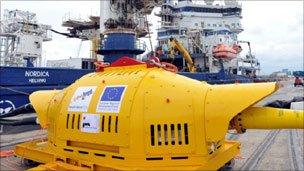 Work is finally under way in Cornwall to lay 25km (15.5 miles) of cable as part of a £42m wave energy project.
The cable laying element of the Wave Hub scheme is about a week behind schedule following delays caused by equipment problems and the weather.
The first part of the operation will see the cable floated to land from a ship 2km (1.25 miles) offshore.
The hub will send energy from machines on the sea surface to wave power units ashore which link to the National Grid.
The cable, which is on board the vessel Nordica, is to run from the sea to Hayle Towans Beach in St Ives Bay.
Work began on the cable laying at about 0600 BST - it has to be floated to the shore during a high tide using 100m (330ft) long buoyancy aids.
If all goes to plan, when the cable end is about 200m (650ft) offshore, it will be winched up the beach at high tide - at about 0400 BST on Sunday - and joined to a nearby electricity substation.
Then, when the tide retreats, the buoyancy aids from the cable will be removed and tests will be carried out.
During the rest of Sunday, the Nordica is expected to sail out about 14km (9 miles), to what will be the 12-tonne hub's final location about 16km (10 miles) offshore, laying the cable directly on to the sea bed.
The cable is longer than the required 16km because it is to be buried about 2.5m (8ft) under the sea bed by underwater trenching machines.
Once that has happened, the 12-tonne hub, which is also on board the Nordica, will be lowered on to the sea bed.
The hub is due to undergo a series of tests in the autumn.
Related Internet Links
The BBC is not responsible for the content of external sites.