Cornwall wave energy cable near to shore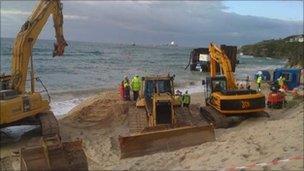 A cable which will link wave energy machines off the Cornwall coast with the national grid is about 200m (650ft) from the shore.
The cable for the £42m Wave Hub project was dragged by tug from a ship 2km (1.25 miles) offshore and was connected to a winch on land.
The winch is expected to bring it on to land at Hayle, near St Ives on Friday.
The wave hub will send energy from machines on the sea surface to the National Grid.
Once the cable is bought ashore, it will be winched up the beach and joined to a nearby electricity substation.
Related Internet Links
The BBC is not responsible for the content of external sites.