Newlyn fish market revamp cancelled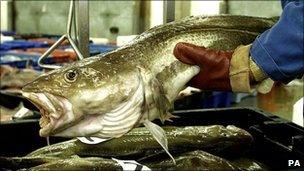 Plans to regenerate Newlyn Harbour have been put on hold after £3.2m of European Fisheries Fund cash was turned away by the harbour commissioners.
The £5m scheme would have provided a new fish market, auction room and office space.
But the commissioners would have had to take out a loan of £1.7m to cover the funding gap.
The commissioners, who are paying off debt, decided to agree a new plan to regenerate the harbour.
Gilbert McCabe, chairman of Newlyn Harbour Commissioners, said: "We would not have had anything in the bank to cover us for contingencies.
"We hope to trade in profit by the end of the year, but if you're in the red, you don't take on extra debt."
Fishermen who were concerned about increased costs of the new facility have welcomed the move.
Related Internet Links
The BBC is not responsible for the content of external sites.