University College Falmouth awarded 100 extra places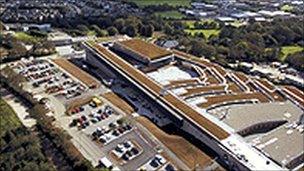 An additional 100 places have been made available for students to study at Cornwall's University College Falmouth.
The specialist arts university has been awarded the places after applying to the previous government.
Patrick Gottelier, head of design from Falmouth University, said it was "fantastic news for Falmouth".
Nationally the number of university places available for next year has been cut by 10,000 and some universities have said they have no spaces left.
The number of applicants to the university has increased from four to six for each available space next year.
It is expected that the number of students studying at Falmouth will increase from 3,200 in the next academic year to 4,000 by 2013.
Related Internet Links
The BBC is not responsible for the content of external sites.