Study of south west seals unlocks migration secrets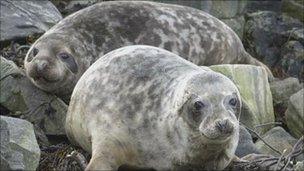 An annual survey is currently under way to try to determine the migration habits of seals in the South West.
Cornwall Seal Group (CSG) is building up a database of seals which repeatedly visit the region's coast.
Volunteers are using photos of seals to check their movements as each creature has individual fur patterns, which remain the same throughout their lives.
According to CSG, the UK has 40% of the world's grey seal population and Devon and Cornwall have a number of colonies.
Information collated from the survey has discovered that some species of the same sex choose to gather at the same sites each year.
Related Internet Links
The BBC is not responsible for the content of external sites.