Bodmin house fire body is murdered woman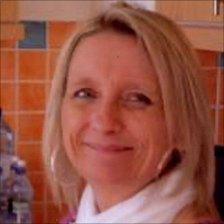 A body discovered following a house fire in Bodmin has been identified as a 43-year-old care worker who is believed to have been murdered.
Police are still questioning a 33-year-old man on suspicion of killing Corby Craze, whose body was found at her home in Vivian Road, early on Saturday.
Two other people have been arrested on suspicion of assisting an offender.
Ms Craze's family said she was a "very special person" who had two children that she loved very much.
Ms Craze, who rented the house, was last seen socialising in Bodmin on Friday evening.
A statement from her family said that she was proud to be a mother to her children and was a "loving daughter and sister" who got on well with the ladies she looked after in the care home where she worked.
"We cannot believe that she has been taken from us and in such horrible circumstances," her family said.
"Corby was a good person who got on with everybody she met. She was a happy person who enjoyed going out with friends and having fun.
"We are all going to miss her very much and we are finding it hard to accept that we will not be seeing her again."
A memorial service has been held at Pendrea House Care Home in Bodmin where Ms Craze worked.
The three people arrested in connection with her death remain in custody and police are currently appealing for information about Ms Craze's car - a blue M-registration Vauxhall Corsa Arizona.
The vehicle, which had two small white flower stickers near the petrol cap, was discovered alight in Hillside Court, Bodmin, at 0340 BST on Saturday.
Related Internet Links
The BBC is not responsible for the content of external sites.