Cable laying restarts on Wave Hub in Cornwall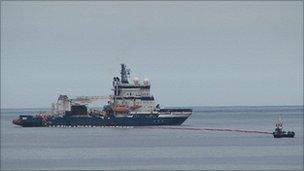 Cable laying for a £42m wave energy scheme in Cornwall has restarted.
It stopped on 13 August after flotation devices holding the 90 tonne cable failed as it was unwound from a ship offshore.
Engineers are now aiming to try again to connect the cable to an electricity sub-station onshore at Hayle Towans.
The cable will connect a number of wave energy machines with the National Grid via a Wave Hub or electrical socket on the seabed.
Engineers hope to bring the cable ashore early on Monday.
After the cable is connected ashore, the ship Nordica will sail out about 14km (9 miles) to what will be the wave hub's final location about 16km (10 miles) offshore, laying the cable directly on to the seabed.
Once that has happened, the 12-tonne hub, which is also on board the Nordica, will be lowered on to the sea bed.
The hub is due to undergo a series of tests in the autumn.
The South West Regional Development Agency, which is managing the project, said engineers were hopeful that the cable laying would be unaffected by bad weather which is due to hit the region on Sunday evening.
Related Internet Links
The BBC is not responsible for the content of external sites.