Cable laying for Cornwall Wave Hub reaches beach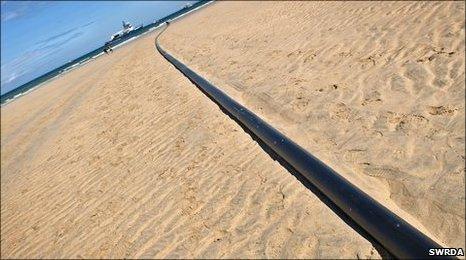 An offshore cable for a £42m wave energy scheme in Cornwall has been brought ashore after weeks of technical and weather problems.
Work on the Wave Hub cable stopped after flotation devices holding the 90-tonne cable failed as it was unwound from a ship 2km (1.25 miles) offshore.
Engineers have used different floats to bring it ashore at Hayle Towans.
The cable will connect energy machines to the National Grid via the Wave Hub, an electrical socket, on the seabed.
Work was due to start at the beginning of the month to begin laying the cable, but bad weather caused delays.
It finally started on 7 August, but was stopped again on 13 August after problems with the original floats, sheaths around the cable, began sinking.
This time different floats were used, which were a sling in which the cable rested between two air bags.
The cable is to be buried under the beach and connected to a nearby electricity sub-station.
Guy Lavender, of the South West Regional Development Agency, which is managing the project, said: "This was a critical milestone for Wave Hub and a great relief to see the cable brought safely ashore.
"Laying the rest of the cable will take several days."
The next stage of the project will involve the ship Nordica sailing out to what will be the hub's final location about 16km (10 miles) offshore, laying the cable directly on to the seabed.
Once that has happened, the cable will be buried and the 12-tonne hub, also on board the Nordica, will be lowered on to the seabed.
The hub is due to undergo a series of tests in the autumn.
Related Internet Links
The BBC is not responsible for the content of external sites.