Teenager apologises after being sent home from Newquay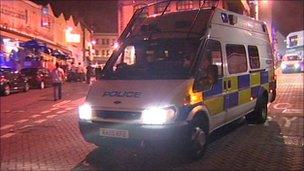 A teenager sent home from Newquay because she was drunk, underage and unaccompanied by an adult has apologised for her behaviour.
The teenage girl, who has not been named, wrote to the Newquay Safe Partnership apologising for her "irresponsible" behaviour.
She was one of more than 20 "drunk and incapable" underage tourists sent home from Newquay by police in July.
Parents from across the country were told to collect their children.
Supt Julie Whitmarsh, from Devon and Cornwall Police, said: "Sending the children home delivered a very strong message about how we deal with young people who place themselves at risk.
"I was really pleased when one of the children had written to us.
"It helps to know that our hard work to try to prevent further tragedies from happening was understood and appreciated".
Newquay Safe Partnership was set up a year ago to protect young people after two teenagers died while visiting the resort.
Police, residents, councils and businesses worked together to promote safety and minimise the risks to drunk people in the town centre.
Related Internet Links
The BBC is not responsible for the content of external sites.