Zoo licence row closes Cornwall tortoise sanctuary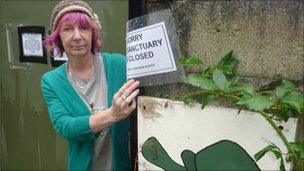 The owner of a tortoise sanctuary has closed it to the public after officials reclassified it as a zoo.
Up to 12,000 people a year visit the Tortoise Garden at Sticker, near St Austell, which is home to more than 400 animals.
But Cornwall Council says it had to term the attraction as a zoo - because the tortoises were "wild" animals, not domestic pets.
Sanctuary owner Joy Bloor said she hoped the law might be changed.
Mrs Bloor has run the sanctuary, which relies on visitors' donations, for about 11 years and it is home to many rare and endangered varieties.
Most were unwanted, abandoned, injured or illegally imported and were given to her after being rescued by members of the public and organisations including the RSPCA.
Mrs Bloor said she was "absolutely devastated" at the decision to close and that she had argued against the zoo classification.
She said: "Every single tortoise here was, at some point, someone's domestic pet, and probably for a long, long time."
Although a zoo licence costs £275 for the first four years, licensees also have to pay fees for government-appointed inspectors when they apply and for any subsequent formal inspections.
Mrs Bloor said the sanctuary would not be able to afford the extra costs and that it cost about £25,000 a year to care for and feed the animals.
She said: "The garden is only just self sufficient and I don't think I could afford it."
Cornwall Cornwall said it had no choice but to apply the Zoo Act.
Despite closing to visitors, Mrs Bloor insisted she would not allow any tortoises come to harm.
Related Internet Links
The BBC is not responsible for the content of external sites.