Cornwall Council leader calls for senior jobs review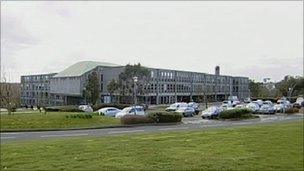 Cornwall Council's leader has called for a review of senior council officers' pay.
Councillor Alec Robertson said it was something that needed to be considered because half of the council's budget went on salaries.
The authority has an annual budget of £1.2bn and just under 20,000 employees.
In July, Mr Robertson said estimates suggested that 2,000 jobs would go over four years in an attempt to make savings of £110m.
Of a senior officers' pay review, he said: "Obviously half of what the council spends is on pay and salaries, and, in trying to find the major savings, it's something that we're going to have to look at carefully.
"That's one of the things we're going to be looking at for our emergency budget in November, and discussing that with the senior staff."
Related Internet Links
The BBC is not responsible for the content of external sites.