Shelterbox 'business as usual' after Australia split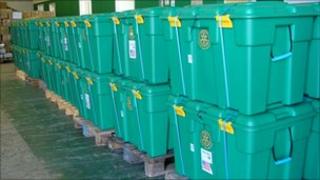 Shelterbox, the Cornish charity that sends aid to disaster-hit countries, says its operation has been unaffected by a split in its Australian operation.
The charity, which has sent hundreds of boxes with tents and aid to Pakistan, has affiliates in 10 countries.
In June members of the Australian branch created their own organisation, Disaster Aid Australia.
But Shelterbox, which created a new team in Australia, said it was "business as usual".
The board of Shelterbox UK, based at Helston in Cornwall, took away the Australian group's affiliation after some members created Disaster Aid Australia.
Team 'stronger'
Neither side has given a reason for the split.
Shelterbox spokesman Tommy Tonkins said: "A new team was brought in straight away.
"The response has been overwhelmingly supportive for the Shelterbox group.
"The new team is as strong, if not stronger than before."
Members of Shelterbox's affiliate organisation in Canada created their own organisation, Disaster Aid Canada, earlier this year.
The breakaway group said its boxes would cost £459 each, compared with £490 for each Shelterbox.
Shelterbox maintains that its boxes of aid, which contain a 10-person tent, blankets, water purification tablets, cooking equipment, tools and a stove, are the best available.