Cornwall cottage hit by HGVs five times in 24 hours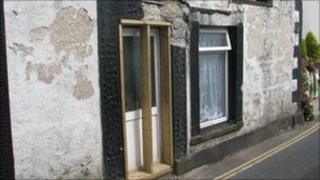 A family from Cornwall say their lives are a living nightmare because their home is frequently struck by passing lorries and buses.
Barnwood Cottage, in Mullion, is close to collapse, they add. Parts of its frontage fell off last month.
Kelly Mitchell-Bawden said the rented cottage was hit five times in 24 hours recently and her family ran for the door whenever they heard a big vehicle.
Highways bosses said they were looking at compromises to stop collisions.
Ms Mitchell-Bawden said one of her four children had Asperger's Syndrome and that he had been very distressed by the crashes.
She said: "We had a very a very big bang on the house and he ran out screaming. It took me a long time to get him back in.
"He later he packed his bags and sat waiting to leave."
She added her other children were "putting on a brave face" to help him calm down and that she and her landlord were waiting on a structural engineer's report on the building, which is believed to be partly constructed with clay-based cob walling.
Kerb lowering
The cottage is on a single track stretch of road and a sign nearby says it is unsuitable for large vehicles.
Andy James, regional engineer for Cornwall Highways, said the sign was advisory - not enforceable - and the road provided important access, so some compromise was required.
He said: "The road is very narrow immediately outside the property, and is also very narrow at a footway that goes through the same area.
"What we are looking into is the potential for looking into lowering the kerb on the footway because we think that heavy vehicles and large vehicles going through are bumping onto the footway and that's causing the top of them to tip over and hit the property.
"We are also conscious that we need to protect pedestrians using the route, so it's really a balance between those considerations, I think."
Cob-wall construction is a traditional building method which uses clay, sand, chalk, straw and subsoil.