Cornwall NHS campaign to prevent norovirus spreading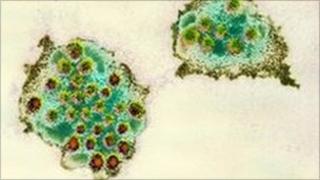 A campaign to prevent the spread of norovirus has started in Cornwall.
The "winter vomiting bug" can cause vomiting and diarrhoea, with some people needing medical treatment.
The NHS in Cornwall said hospitals and GP surgeries would provide information and hospital staff would attend sessions about controlling the virus.
In February, restrictions were placed on the Royal Cornwall, West Cornwall and St Michael's hospitals for several weeks due to the virus.
Lisa Johnson, from NHS Cornwall and Isles of Scilly, said: "Although anyone can catch norovirus, once you do have it you can prevent passing it on through good hygiene.
"The virus can survive on surfaces for a long time and so it is important that if you have the symptoms you stay away from work, schools and if possible hospitals until fully recovered."