Falmouth students complain of lack of accommodation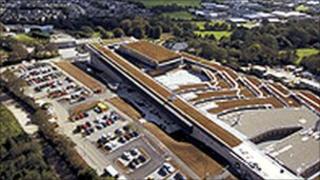 Some students preparing to study at University College Falmouth (UCF) say they are unable to find accommodation for the new term.
A number are looking for somewhere to live beyond Falmouth and the university has announced plans to use bunk beds in halls of residence.
One student claimed he was "homeless" two weeks before the start of term and may not be able to complete his course.
UCF said accommodation was available and students should contact them.
Increased numbers
Third year student, Tom Laker said: "Effectively I won't have anywhere to live when I go back in two weeks and I won't be able to finish my course."
Second year student Ioakim Brammer said he had spent five months looking for accommodation.
"It's all been taken, especially because Dartington University has merged with Falmouth so that's a huge increase in students.
But the director of UCF Student Recruitment, Jeremy Whitaker said: "The majority of students have been successful in securing accommodation."
This year UCF has taken the decision to use bunk beds in some campus rooms to accommodate an increase in the number of students.
In a statement UCF said: "We have taken the decision to install bunk beds in approximately 200 of the 600 single rooms on campus."
Mr Whitaker said that students concerned about accommodation should contact the university.
Lawrence Butler, managing director of Devington Homes which provides student accommodation said he had seen an increase in the number of students looking for somewhere to live.
It is expected that the number of students studying at Falmouth will increase from 3,200 this academic year to 4,000 by 2013.