MPs in 'boundary change' meeting with Nick Clegg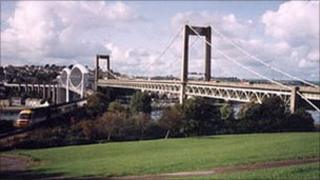 MPs from Cornwall who met the deputy prime minister to talk about possible combined constituencies with Devon said they had a "sympathetic hearing".
The coalition government's alternative voting bill includes plans for an election system referendum, changes to constituency boundaries and fewer MPs.
Cornwall's six MPs have all criticised any moves to combine the counties.
North Cornwall MP Dan Rogerson said the meeting with Nick Clegg allowed the MPs to make a united case.
'Special case'
The bill contains plans to "equalise" constituency sizes to about 76,000 people and reduce the number of MPs from 650 to 600.
If such a move went ahead, it has been predicted that - if Devon and Cornwall boundaries were changed - South East Cornwall or North Cornwall would merge with Devon West & Torridge or Plymouth Moor View, incorporating two sides of the River Tamar.
Cornwall's MPs - three Conservatives and three Lib Dems - have said that there are definite economic and cultural differences between Cornwall and Devon, and that mixed consistencies might not recognise this.
During their meeting with Mr Clegg on Wednesday, the MPs said any such legislation should be amended to take special consideration of Cornwall's boundaries.
North Cornwall MP Dan Rogerson said: "We were able to make a united case as to why we think Cornwall could be considered as a special case, along with Orkney, Shetland and the Western Isles, which have thus far been taken out of the bill.
"I think we got a sympathetic hearing. No promises, but a sympathetic hearing."