MP raises anxiety about navy base HMS Raleigh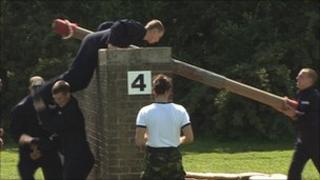 Calls to retain HMS Raleigh in Cornwall as the Royal Navy's basic training base have been made in the Commons.
Conservative MP for South East Cornwall Sheryll Murray said there was great concern about its future in the defence spending review.
The Ministry and Defence (MoD) is looking at cuts to its budget of between 10% and 20%.
The MoD said that no decisions had been taken on the review which is due to be completed by the end of October.
Ms Murray said: "The people in my constituency are very anxious at a time of great upheaval and uncertainty and they rely very heavily on HMS Raleigh for employment.
"I hope the secretary of state will ensure this tremendous training base remains."
HMS Raleigh is cutting the number of recruits by more than half this year but the navy says that is because it has already attracted enough entrants and fewer personnel are leaving in the economic downturn.
It said the cut was completely separate from the defence review.