Fifty firefighters tackle fire at farm in Edmonton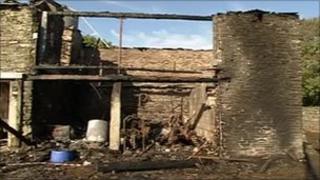 Firefighters in Cornwall are tackling a fire on a farm in Edmonton near Wadebridge.
The fire service was alerted to the incident at about 0100 BST on Saturday morning.
At its height about fifty firefighters were involved in tackling the fire, which spread to several buildings, including a barn and parlour.
The farmer said that she no longer had anywhere to store her milk, but that no people or animals had been hurt.