Father drowned in 'dangerous' sea, inquest told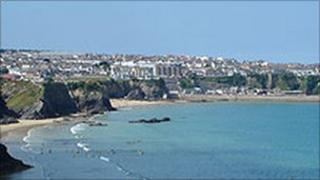 A surfer has told an inquest into the death of a holidaymaker who drowned while bodyboarding in Cornwall of the "dangerous" sea conditions at the time.
Nigel Hayes, 51, of Essex, was with his 14-year-old son, Daniel, off Newquay's Fistral beach in July 2009 when the pair became caught in a current.
Surfer Ruben Martinez told the inquest in Truro that the sea that day "was dangerous for an experienced surfer".
Cornwall's assistant deputy coroner recorded a verdict of accidental death.
Mr Hayes, from Chelmsford, had gone on holiday with his wife and one of his two children.
'Tragic accident'
In a statement read out at the inquest Daniel Hayes told how he and his father struggled to cope with 4ft (1.2m) high waves after entering the water on the evening of 19 July last year.
"I was still holding on to the board but then I was dragged under the water and the board was swept away," he said.
"When I came to the surface I saw my dad and he was about 20ft away.
"I couldn't see his board, I just remember seeing the water going over him.
"I could see my dad and I knew he was dead. I couldn't get over to help. I was panicking."
Bodyboarding, also known as boogie boarding, is a form of wave-riding using a small foam board.
Surfer Ruben Martinez, from Chichester, West Sussex, told the inquest: "I saw the child in the water and he was shouting 'help, help', and I paddled out to him.
"I saw the elder man and I could see they were both panicking.
"As I paddled to the child and reached out, the older male reached out and grabbed the back of my surfboard."
Mr Martinez paddled to shore to raise the alarm before heading back to sea where he grabbed Daniel and got him onto the beach.
The inquest heard that after being pulled from the water the pair were airlifted to hospital but Mr Hayes was later pronounced dead.
Devon and Cornwall Police told the inquest his death was not suspicious and that Mr Hayes' wife had told them that she thought her husband had not known much about the sea conditions and the currents.
Barrie van den Berg, assistant deputy Cornwall coroner, told the inquest Mr Hayes' death had been a "tragic accident".