Cornwall death crash prompts coroner safety plea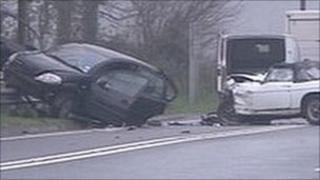 A coroner has called for a safety investigation into a Cornish road where there have been more than 70 collisions in six years.
Deputy Cornwall coroner Barrie van den Berg is writing to the Highways Agency after recording a verdict of accidental death on a man who died on the A38.
Philip Wilson's car aquaplaned on a wet section of the road near Trerulefoot, into the path of an oncoming vehicle.
Mr Wilson died at the scene and the car driver he hit had severe injuries.
Speed limit clue
The inquest at Truro City Hall heard that it had been raining overnight before the accident on 15 April 2009, and the road was very wet.
A number of witnesses said that Citroen C3 driven by Perranporth man Mr Wilson may have been travelling at more than the 60mph speed limit.
But the coroner was concerned about drivers being unaware of the problem of surface water, which he said could prove disastrous if they were travelling slightly too fast.
He said he would write to the Highways Agency about the problem of water on the road because he was concerned a similar accident may happen again.
A Devon and Cornwall Police collision investigator said the area was notorious for flooding, which happened about 12 times a year.
The Highways Agency said it would not comment until it had received the coroner's letter.