Giant new turbines arrive on Cornwall site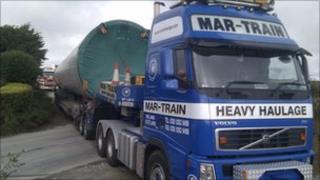 Parts for four giant wind turbines have started to arrive in Cornwall ready for installation.
Sections of the 99m (325ft) turbines have been transported from the A30 along the A395 to Delabole, with more arriving in the next two weeks.
The new turbines will produce more than two and half times the output of 10 smaller predecessors.
Delabole wind farm was built in 1991 as a greener alternative to plans for a nuclear power station in the area.
Since 2002 it has been owned and operated by Good Energy, which is investing £11.8m to re-power it.
Juliet Davenport, of Good Energy, said: "Delabole wind farm is a fantastic example of home-grown energy.
"We are excited to be taking Delabole into its second generation of onshore wind power."