Praa Sands beach sewage scheme plans approved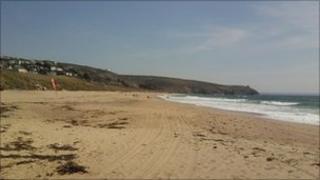 The go-ahead has been given for a sewage scheme to pump waste into a stream on one of Cornwall's beaches.
The scheme at Praa Sands will handle sewage from the nearby Praa Sands Holiday Park.
Cornwall Council members approved the plan on Tuesday night, but added that tough conditions would be in place to protect the beach near Helston.
An environmental study must be carried out before it starts and safeguards put in place in case of accidents.
The holiday park currently deals with sewage by using septic tanks and soakaways. The effluent in tanks is then taken away in tankers.
The planned treatment works would produce up to 150,000 litres of effluent a day, and treated sewage discharged into the stream which crosses the beach.
Campaigners against the plans said they were concerned about possible health risks.
Nearby Resident Tanis Board added that the plans could upset people staying at the complex, as well as those living nearby.
She said: "They will want their children to play in that stream and in the pool.
"Will they be happy to think their wee is coming down the stream and swirling round their children?"
Cornwall Council planners said the sewage works could only go ahead if it got the all-clear in the environmental study.
Councillor Andrew Wallace: "What they're going to discharge, if all the systems are in place and working, is clean water.
"The worry is that if any of the systems fail, it won't be clean.
"I think we have to mitigate against all the likelihood of that happening by separate conditions so as to mitigate against any discharge into the sea itself."
The company which runs the park, the Haulfryn Group, said sewage would get the highest level of treatment.
Company planning agent Jeremy Lambe said: "We're very pleased with the outcome. It was the right decision.
"The proposal is a significant environmental enhancement and improvement on the existing foul drain arrangements at Praa Sands and its is a significant benefit for all parties."