Cornish soldier mentioned in despatches for bravery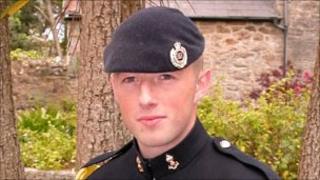 A soldier from Cornwall who was killed in an explosion in Afghanistan has been mentioned in despatches for bravery.
Sgt Paul Fox, from St Ives, ran into open ground during an ambush in Babaji, Afghanistan, to set up a smoke screen to protect colleagues, the Army said.
The Royal Engineer's citation said he showed "selfless commitment and bravery" in his actions "without any regard for his own personal safety".
The 34-year-old died in Helmand in February in a later incident.
Sgt Fox, from 28 Engineer Regiment, was attached to the 11 Light Brigade Reconnaissance Force when he and colleagues were attacked by insurgents.
He ran into an exposed position under heavy small arms fire to set up the smoke screen for several minutes to allow his colleagues to reach cover, the Army said.
He died on 26 February after he was caught in an explosion while on foot patrol at a check point in the Nad Ali district.
Hundreds of people lined the streets of St Ives in March for the funeral of the Manchester-born soldier.
He moved to Cornwall with his family when he was 10 and joined the Army in 1994.