Norfolk man arrested over fatal crash in Cornwall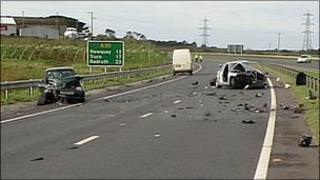 A 25-year-old Norfolk man has been arrested in connection with a fatal road collision which happened on the A30 in Cornwall.
Margaret Connelly, 39, from the Newquay area, was killed in the four-vehicle crash between Highgate Hill and Victoria, near Bodmin, on 2 October.
The collision led to both carriageways being shut for 13 hours.
The man was arrested on suspicion of causing death by dangerous driving and was bailed until 5 January.