Navy winchman describes dramatic Cornish trawler rescue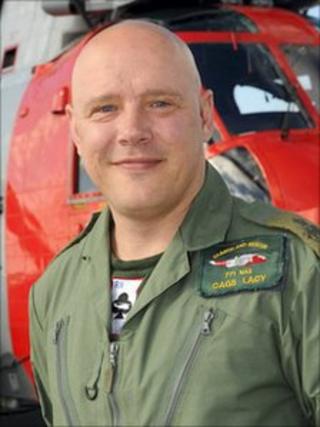 It was late afternoon on New Year's Eve when Royal Navy winchman Dian "Cags" Lacy was called out on what was to be his last search and rescue mission.
He and his three crewmates from 711 squadron, based at RNAS Culdrose in Cornwall, were busy airlifting a heart attack victim to hospital when the mayday call from the Trevessa, a Penzance fishing trawler, came through.
The vessel had caught fire 60 miles off the Isles of Scilly, leaving her foundering without power in 6m (20ft) high waves and storm force winds.
Four men were trapped on deck as the blaze raged inside.
"Conditions were quite appalling," said Aircrewman Lacy, "Our ultimate aim was to save lives.
"We knew they were in a perilous condition and we knew there was a risk to us.
"I was just concentrating on the job.
"Maybe at the back of my mind there was a second when I thought: 'My life's in danger'."
Despite the risks, the Sea King helicopter crew decided to lower down Aircrewman Lacy to try to winch the men to safety.
But just as he reached the deck, a heavy swell caused the trawler to pitch, throwing him 6m (20 ft) into the sea.
"I entered the water and can remember vividly looking up and seeing the greeny glow of the aircraft lights above me," he recalled.
"In my headset I could hear someone on board saying I was underwater. It was quite surreal."
He was winched back on to the helicopter but he and his crew immediately chose to attempt another rescue of the men.
"There was no hesitation about going back down.
"If at first you don't succeed... you know the rest."
This time the rescue attempt was successful and 50 minutes later all four of the Trevessa's crew had been winched to safety.
One of the rescued men, Robert McCreath, said: "They did that in a screaming gale in the pitch dark.
"They did a fantastic job, they deserve everything they get and more."
Aircrewman Lacy has since been awarded the Queen's Medal for Gallantry.
He and the rest of the Sea King crew, Lieutenant Commander Steve Hopkins, Lieutenant Alex Stevenson and the pilot, Lieutenant Commander Martin Shepherd, have also been awarded the Edward and Maisie Lewis Award by the Shipwrecked Mariners' Society for their "bravery and professionalism" on that night last December.
The winchman, who retired from the navy just a few months after the Trevessa rescue, said: "The awards are a huge honour.
"I completely never expected it. I was just doing my job."
Commenting on the news that Prince William has carried out his first mission as part of an RAF search and rescue crew, he said: "The first mission is nerve-wracking.
"It gets easier with experience."