Scillies seagull photo takes winning prize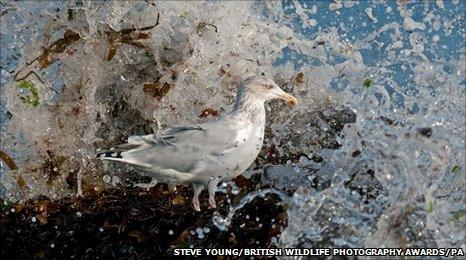 A stunning picture of a seagull on an Isles of Scilly beach has won a Liverpool photographer £5,000.
Steve Young, 56, scooped first place in the coastal marine section of the British Wildlife Photography Awards.
The judges said the picture captured the "power, chaos and intensity" of the ocean as it surrounds the majestic gull.
Professional wildlife photographer Mr Young took the picture on Porthcressa beach in October 2009.
He said: "I saw a bird feeding on the shoreline and instead of jumping up it just carried on walking through the waves.
"Luckily the waves crashed at just the tight time."
Judge Tom Hind, from Getty Images, said: "I like the defiance in this shot - the gull's refusal to be moved in the face of this crashing wave seems to sum up a peculiarly British stoicism.
"It's also a great example of how the commonplace can be transformed in a judicious moment."
A nationwide year-long touring exhibition of the top pictures launches at the Hooper's Gallery, Clerkenwell, London, on 14 October.
Related Internet Links
The BBC is not responsible for the content of external sites.