Cornwall hospital op man left without food for days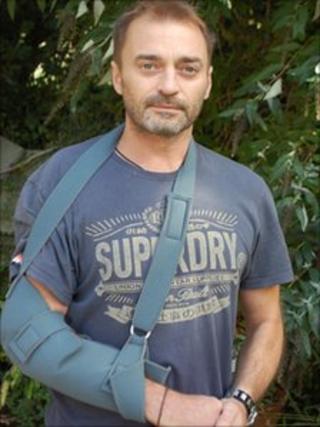 A man has claimed he was starved for nearly four days while waiting for a hospital operation in Cornwall.
James Prosser, 42, from St Jidgey, near Wadebridge, was admitted to the Royal Cornwall Hospital for an arm infection.
However, surgery was postponed several times which led to him having "nil by mouth" for almost four days, he said.
Stella Ellis, a hospital manager, said Mr Prosser was offered hot drinks. She apologised that he had no nutrition and added that services would be reviewed.
Mr Prosser said his infection last month meant he was always scheduled for the last operation of the day as the theatre had to be cleaned after him.
He added that although he accepted that emergencies took precedence, he believed theatre staff should have been able to let ward staff know before the end of the day whether they would be able to get round to him.
'Better communication'
"I think they need to establish some better lines of communication - particularly with the theatre staff to the ward staff," he said.
"If they have emergencies and are going to be delayed and there are people waiting who are on "nil by mouth" and it looks unlikely that they are going to be dealt with then let them eat."
Stella Ellis, Divisional Manager for Surgical Trauma & Orthopaedic treatment at the Royal Cornwall Hospital, said: "Unfortunately, and I do apologise to Mr Prosser, I think communication was an issue between the theatre teams and the ward regarding what was happening in theatres.
"We had a number of very serious trauma cases which came in [over the weekend] which had to overtake Mr Prosser's position on the list.
"We are terribly sorry that Mr Prosser did not have nutrition during that time but it is believed that when it became known that he wasn't going to be going to theatre at night he was offered hot, milky drinks.
"If the theatre teams and ward staff had communicated better, we would have been able to offer Mr Prosser a more nutritious meal."
Ms Ellis added that the hospital would be looking at how it could improve communication so that it was known what time the surgical list would be finishing for the day and how many patients the theatre teams would still have space to do.