Culdrose squadron is honoured by Cornwall council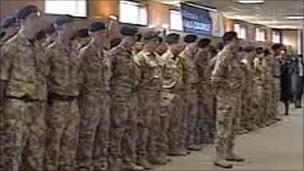 Members of a helicopter squadron from RNAS Culdrose have been honoured in Cornwall for their work in Afghanistan.
Personnel from 854 Squadron were invited to County Hall by Cornwall Council to a special reception.
Pat Harvey, from the council, said the county was proud and appreciative of the "the dangers that they put themselves in".
The squadron, based at Camp Bastion, fly aircraft to provide an aerial view for British and US ground troops.
The squadron returned to RNAS Culdrose in August following a six-month tour of duty.
Related Internet Links
The BBC is not responsible for the content of external sites.